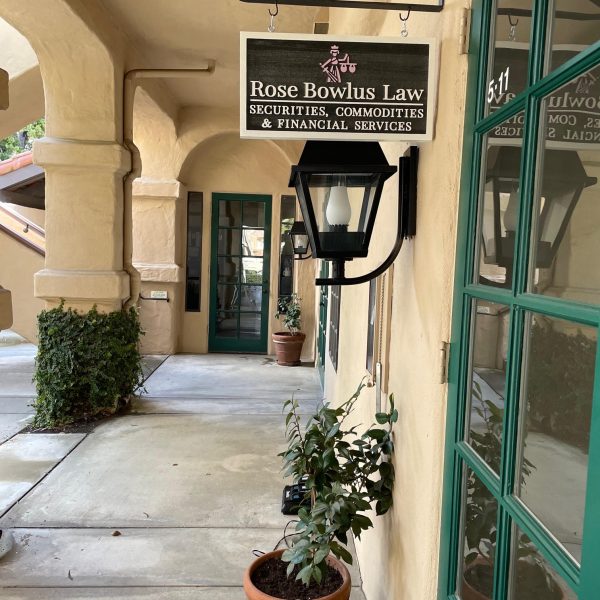 Explore our new Rancho Santa Fe office location and discover our expertise in commodities, securities, financial services, and general corporate law.
Rose Bowlus Law is a boutique business law firm based in San Diego, CA that specializes in commodities, securities, and financial services laws in addition to handling general corporate and business transactions. 
We pride ourselves with being able to provide "white glove" service for businesses of all sizes from startups to mature corporations, and over-deliver whenever possible.
As a client, you will engage directly with our highly experienced founder and receive a level of care and attention that is rare within legal practices. 
Honesty, integrity, transparency, compassion, and collaboration. These are the values that drive us. We believe a great law firm should care not only about providing legal services, but the overall wellbeing of their clients. We mentor, educate, connect, and give perspective for our clients so they can continue to grow and thrive in their business and careers.
We also give back to the community by taking leadership roles in the legal industry. We serve as mentors, advisors and public speakers on legal issues.
Rose began her in-house legal career at Wells Fargo, later moving on to prominent financial institutions such as PNC and Wachovia. Her legal practice primarily focused on supporting capital markets and derivatives teams within wholly-owned bank subsidiaries, covering a wide range of derivative transactions including interest rates, foreign exchange, credit, equity, and energy. In response to the 2008 financial crisis, Rose transitioned her career and joined Sempra Energy in San Diego, where she provided legal support for the retail energy and renewables sectors.
With over 20 years of legal experience, Rose is a highly skilled attorney and former in-house counsel who possesses extensive transactional, regulatory, and compliance expertise in leading financial institutions and energy companies. She is known for her strong leadership abilities, business acumen, ethical integrity, sound judgment, and common sense, enabling her to make business-oriented legal decisions and develop practical solutions for company executives. Additionally, Rose excels as a strategic advisor, offering clear guidance on product and service implementation, and she has a proven track record as a skilled negotiator and effective communicator. Her attributes include a quick learning ability, proactive work style, and resourcefulness.